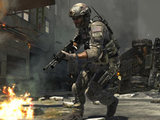 Modern Warfare 3's list of Achievements has been unveiled.

The 50 Achievements will be unlocked through the campaign and Special Ops modes,

The campaign listing features various story Achievements, and as with previous Call of Duty titles, requires players to complete the mode on Veteran and collect Intel items.

Special Ops Mission returns with Hardened and Veteran difficulty modes, as well as a 48-star Achievement that hints at a possible 16 missions.